Enables secure access to Lotus databases, files and URL directories with two-factor authentication.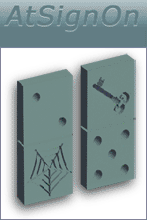 AtSignOn for Lotus® Domino™ software uses RSA SecurID® two-factor authentication to enhance security on Lotus Domino R5, R6, R7, R8 and R9 Web servers. The Agent enhances the authentication of those who use Web browsers to access Lotus Domino resources, such as Lotus databases (address books, calendars, mail), URL directories and files on a Domino server that are protected by RSA Authentication Manager (SecurID). This Agent is used in combination with the RSA Authentication Manager® authenticationmanagement software and RSA SecurID® tokens.
When AtSignOn protection is enabled on a Web server, users who attempt to view protected resources are prompted to enter an RSA SecurID PASSCODE. If the PASSCODE is valid, the user is given access to the protected resource. If the PASSCODE is not valid, the user is denied access. Only those users who are registered as token holders in the RSA Authentication Manager database are able to access the RSA SecurID-protected Web resources.
Note: AtSignOn does not provide authentication to Lotus resources through such protocols as IMAP, POP3 or the Lotus Notes® proprietary protocol. AtSignOn protects resources that are accessed through a Web browser, not those that are accessed through a Lotus Notes client.
Features and Benefits
Installs directly on the Domino server - requires no additional software on the client
Configurable to control access to selected resources
Functions seamlessly with existing RSA Authentication Manager 7.x solution
Request a FREE DEMO
Download Brochure, Click here