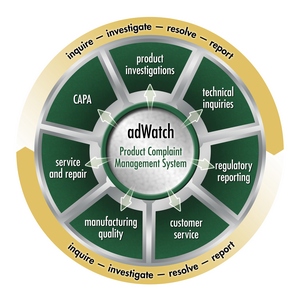 adWATCH - Product Complaint Management (PCM) helps organizations capture, distribute, retrieve, and manage product complaints globally and in real-time.
The objective of Atlant Systems' adWATCH-PCM Product Complaint Management system is to help organizations capture, distribute, retrieve, and manage product complaints globally -- product complaints from any manual source, computer source or application. adWATCH-PCM fosters an environment where document creation, review, and approval can be done collaboratively among individuals within and outside the corporation all over the world.
adWATCH-PCM helps a pharmaceutical and/or medical device company:
Receive, review and evaluate product complaints from customers, physicians, patients, distributors, and other organizations
Process and document investigations of product complaints by the respective manufacturing site(s)
Resolve product complaints including the actions necessary to meet customer service goals
Track all open product complaints to ensure timely resolution and action
Enforce an approval process for each product complaint that complies both with company and regulatory requirements
Provide access to the product complaint management system by all authorized users inside and outside the organization
Archive product complaint documents electronically for rapid search and retrieval
Deliver ad hoc reporting to management for trend evaluation and statistical analysis
Features and Benefits
adWATCH - PCM automatically generates the FDA-approved MedWatch, Baseline, and CIOMS reports from information already in the database.
adWATCH - PCM allows remote users to participate in many functions of the system via dial-up, intranet, or extranet.
adWATCH – PCM mirrors the workflow of complaint processing from initial notification through investigation, analysis, and resolution.
The Customer Notification forms letter library provides the ability to send customized letters at predetermined times or on an as-needed basis during the investigation and resolution.
adWATCH - PCM provides the ability to respond quickly to product quality issues by providing timely customer feedback.
adWATCH - PCM includes a software validation database to assist with FDA-mandated requirements for initial validation and change control procedures.
Enterprise-wide replication ensures up-to-the-minute information is available across all locations, worldwide
An intuitive look and feel to screens makes using adWATCH - PCM simple and easy to use.
Request a FREE DEMO
Download Brochure, Click here