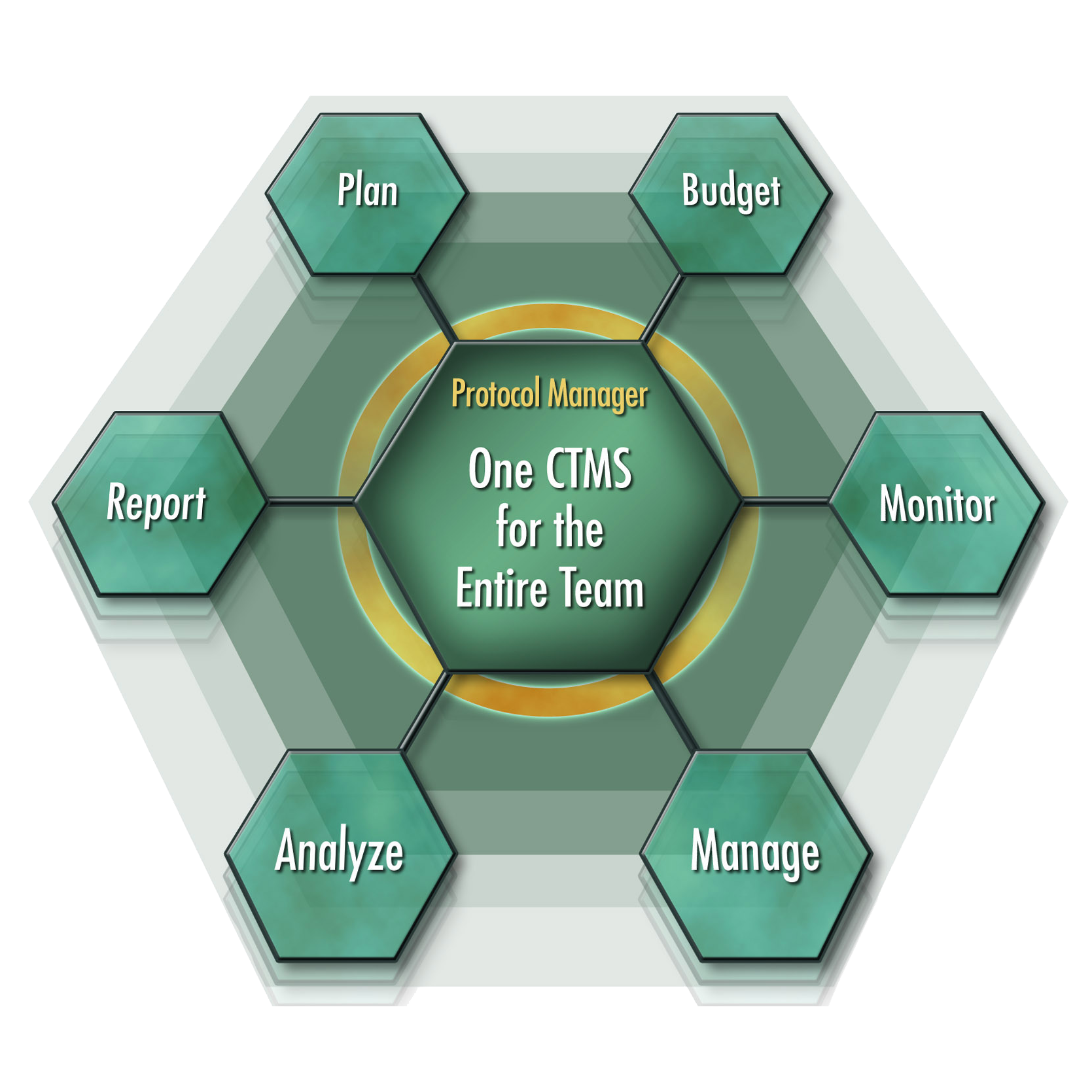 Protocol Manager is a full-scope, configurable, off-the-shelf Clinical Trials Management System (CTMS).
Protocol Manager helps clinical operations manage global trials of drugs, devices, biologics, and vaccines in all phases of development. When the appropriate Standard Operating Procedures (SOPs) are implemented in your company, Protocol Manager can help you be compliant with the FDA's 21 CFR part 11 regulations
Take the test – when does a company needs a full-scope CTMS like Protocol Manager?
CTMS Test
Score (0 – No Problem to 10 – Big Problem)
Number of trials is increasing ______
Number of sites on a trial is increasing ______
Number of patients/subjects on a trial is dramatically increasing – moving from Phase I to II or Phase II to III trials ______
Regulatory documents are difficult to manage – regulatory documents are different by role when a trial crosses international boundaries ______
Must reinvent letter and regulatory Document Templates for each trial ______
Getting sites initiated has become difficult ______
Keeping a database of accurate site information is complex ______
Paying investigators is complex ______
Patient/subject cohort management is complex ______
Managing contractor invoices is complex ______
Total >>> ________
If your score is over 25, you possibly need a CTMS.
If your score is over 35, you need a CTMS.
If your score is over 50, you are in desperate need of a CTMS.
What a CTMS is:
A robust tracking tool and database designed to manage myriad trial information and metrics
Subject Visits
Monitoring Visits
Documents
Payments
Inventory
Provides automation and cross-trial/cross-program consistency
Wide range of reporting options
Metric measurements
What a CTMS is NOT:
Electronic Data Capture (EDC) system
Replacement for good hands-on study management
Automation of program management
Features and Benefits
On-line and off-line use
Hosted and/or licensed use
E-Mail freedom for alerts
Investigator Payments
21 CFR Part 11 Compliance
Industry Standard Security
Templates for ease of use and efficiency
Powerful Business Development Module
Manages site contracts and payments
Realtime Site Portal
Time & Expense Reporting
CTMS/EDC/IVRS Integration:
Protocol Manager supports Web Services technology to provide seamless, automatic integration with many popular EDC and IVRS products. For systems not supporting Web Services, integration is supported via an export/import mechanism.
Request a FREE DEMO
Protocol Manager is available on 3 different platforms:
Microsoft .NET Platform
Cloud Platform (Free trial available)
IBM Lotus Notes Platform
Download Brochure